Exploring the brand new sound and hearing exhibition at Winchester Science Centre
We a huge fans of Winchester Science Centre, the leading science and discovery centre in the south of England, with the UK's largest standalone Planetarium, so we were very excited to learn that they have just undergone a huge makeover and we were invited along for one of the first peeks.
They have been on a mission to make STEM (science, technology, engineering and maths) accessible to everyone and as part of this they have completely transformed their visitor experience with a brand new immersive sound and hearing exhibition, complete with 10m long playable guitar, explosive live demo area and indoor/outdoor nature-based experimentation zone.
We were really impressed with their COVID19 measures. Like most venues, pre-booking is essential as they have limited the number of visitors into the building.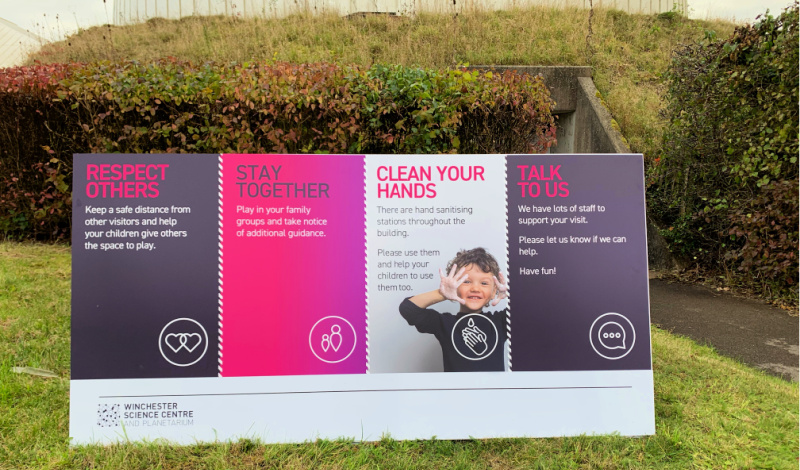 There is hand-sanitiser and cleaning stations dotted all around the centre and you regularly see staff cleaning, which is really reassuring, plus everything is set a good distance apart, so it never feels crowded.
The great thing about Winchester Science Centre, is that the kids are invited to get hands-on with all the activities which really helps with their understanding and to embed their learning.
They immediately radiated towards the giant 10m guitar, plucking the strings and listening to the different sounds. You can even walk inside it, where the sound is much louder. From there, they were eager to complete the worksheet that was given to them at the entrance, all about Humphrey the Humpback Whale.
The new interactive exhibition, is all themed around sound, hearing and vibration and they had to help Humphrey find his Pod, learning all about how sound travels underwater and how noise pollution causes issue for creatures.
The exhibits are so fun and tactile that the kids don't realise they are actually learning about the art, physics and biology of sound, hearing and vibration.
Eliza was fascinated by the Sound Bite exhibit, which involves biting on a metal rod (through a disposable straw), which allows the sound to be transmitted through her jaw bone straight into her ears.
Isaac, who wants to be a zoologist when he is older, was fascinated by how animals make sounds and hear, whilst Sebby loved climbing inside their giant ear to explore its inner workings.
Of course, being a sound and hearing exhibition, some exhibits require you to make as much noise as possible.
There is also the chance to see live science shows over 20 minutes and we saw two different ones whilst we were there.
There are many other exciting activities to get involved with, with out-of-this world interactive exhibits in Explorer:Space, situated downstairs.
Another highlight of our visit was the Sounds Like Science show, which involved making music with metal poles and fire and seeing how sound waves work.
If you visit Winchester Science Centre, allow at least 3-4 hours to get the most out of your visit.
There is a lovely cafe, where you can get refreshments, an outdoor play area and the new bio-space nature-based experimentation zone.
For younger visitors, there is a new construction play area, complete with dressing up, foam bricks and a working crane.
My three enjoyed building a huge wall for the little ones playing to knock over again.
Tickets to Winchester Science Centre cost £10.80 per person, with children under 3 free.
Disclaimer: We were invited to Winchester Science Centre for the purpose of a review. All thoughts and opinions are our own.