Review: Bioparc Valencia
During our holiday to Spain, we took a day trip to Valencia, a port city which lies on Spain's south-eastern coast, known for its City of Arts and Sciences.
Normally our city visits involve exploring as much as possible on foot, however, because Sebby had been poorly during the holiday, we decided to find things to do that would not take much walking.
When researching things to do with kids in Valencia, the number one thing that came up was to visit Bioparc Valencia, which is zoo that has been created with the zoo-immersion philosophy where you are totally submerged in the wild habitats of all the animals.
There is parking on site, in a multi-story car park next to the zoo and as you emerge you are greeted by a stunning wooden elephant at the entrance.
Once inside, you head over the bridge to enter the zoo itself.
As soon as you walk down the other side of the bridge into the first enclosure area, it is a real "WOW" moment and unlike any zoo i have visited before.
The zoo is dedicated to the animals of Africa and you can see animals appearing to roam free as you wander from the savannah to Madagascar to equatorial landscapes.
There is a real absence of obvious fences throughout the zoo and at one point we had troop of lemurs, brazenly walking inches away from us.
What really surprised up was the real mix of animals in each themed area.
In the equatorial rainforest area, the pygmy hippo's does alongside bongo's whilst the monkey's picked apart the dung.
Some animals are kept in separate enclosures, like the leopards, chimpanzee's and gorilla's.
Bioparc Valencia is committed to conservation and many of the species at the zoo are included in European conservation breeding program.
The savannah has a large open area containing antelopes, giraffes and rhinoceroses, roaming alongside lions who look on from their on rocky vantage points.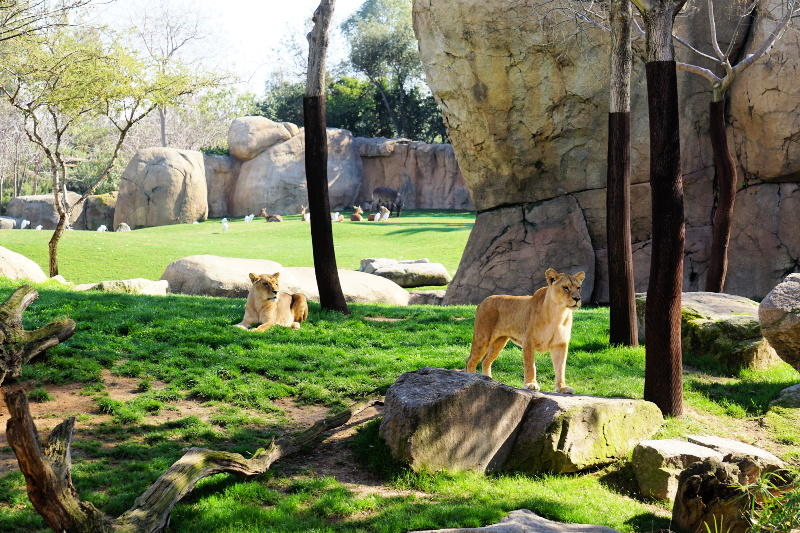 I am not sure if they are kept apart, but it certainly didn't look that way from our vantage points, although they do use a clever mix of steep banks, water and glass to keep animals apart.
The elephants had their own enclosure which was dominated by their own rocky outcrop and waterfall.
We didn't spot them at first as they were at the back of the enclosure playing with bales of hay.
One of the highlights of our visit was almost missed, as we assumed it was just a lake filled with fish, but on closer inspection lay two hippo's, relaxing under the water.
They almost didn't look real until they moved their noses above the water to take a breath.
In the enclosure opposite were too huge crocodiles and I was most glad that they were behind a glass wall.
The feel of being out in nature continued along the pathways and the kids loved racing through the tunnels to see what animal they would see next.
There are 4,000 animals to see at Bioparc Valencia and they also hold talks and shows at certain times of the day.
Entrance to Bioparc Valencia costs €23 per adult and €18 per child, with children aged 4 and under free. Parking costs €6 per day.
Be aware that no food is allowed to be brought into the park and your bags are searched on entry, but there are plenty of places to eat and drink inside.
Do you like the look of this zoo?