8 Indoor places to visit this February Half Term in Bournemouth Town Centre
Half term is early this year, thanks to an earlier Easter break and we are already planning fun activities and days out for the kids.
I always find February the trickiest month to plan for, because the weather can be unpredictable and some more tourist friendly places to visit don't open until later in the year.
Rockreef
RockReef is situated on Bournemouth Pier and is an all year, all-weather attraction, making it the perfect place to visit when the weather isn't playing ball, for kids and adults alike.
We visited a lot when the kids were younger and I was worried they may have outgrown it, but they loved our visit last week.
We booked the Ultimate Adventure package, which allowed them to take part in all the activities Rockreef has to offer, including the Pier Cave, High Line, Leap of Faith, Climbing Walls and the Vertical slide.
Oceanarium
The Oceanarium in Bournemouth may be small, but it is perfectly formed and once you have your ticket, you can leave and go back as many times as you want in the same day.
My top tip would be combine your visit with other nearby activities, so you can return throughout the day to catch the different feeds and talks.
11.00am – Otter Feeding Presentation (Otter Oasis)
12.00pm – Penguins Feeding Presentation (Penguin Beach Encounter)
2.00pm – Feed at Shark Wreck Reef
3.30pm – Penguins Feeding Presentation (Penguin Beach Encounter)
To make your visit even more special, why not book one of their animal experiences, where you can feed the sharks, stingrays, turtles or otters.
Pier Amusements
Pier Amusements is set at the entrance to Bournemouth Pier and has a lovely family atmosphere. The kids love playing the penny machines, plus there is a wide range of family orientated games and prizes from the current film licences.
Cool Coast Ice Rink
The Cool Coast Ice Rink is the largest indoor ice skating rink on the South Coast and can be found just off the seafront in the Bournemouth International Centre.
Ice skating session times run from 11:00am until 8:45pm (times vary) 7 days a week and each ice skating session will last 60 minutes. Hurry though, it is only open until 19th February.
Mr Mulligans
If you have a family that are competitive, I highly recommend visiting Mr Mulligans indoor golf course.
There is an epic 18 hole crazy golf course, electro-darts, shooting gallery, pool and ping pong to enjoy.
Bowl Central
This family entertainment centre is set on Westover Road and features a bowling alley and an amusement arcade.
This is the kids favourite arcade as they get to save their points on a credit card style card, so they can save up for the prize they really want, rather than wasting it on sweets.
BH2 Leisure
BH2 Leisure is set adjacent to Bournemouth Gardens and is home to the Odeon cinema, Boom Battle Bar, Mr Mulligans, Escape Hunt and various restaurants, so you could spend the whole day here.
We cannot wait to try the escape rooms and can highly recommend Slim Chickens as a great place to eat.
Laser Quest Bournemouth
Laser Quest is the ultimate in battle fun!!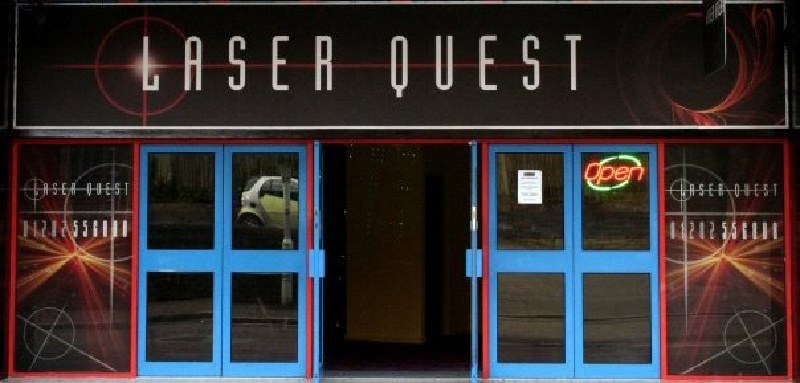 Each player is kitted out with a futuristic body pack and carries a laser before entering the Laser Quest labyrinth, with catwalks, mazes, swirling fog and special effects!
Have you visited Bournemouth