A visit to Glastonbury Tor with kids
Ever since watching the film, The Kid Who Would be King, the kids have wanted to climb Glastonbury Tor as it featured in the film.
The film was about Alex, a 12-year-old boy, and his friends fight an evil sorceress with the help of Excalibur, the sword of King Arthur, in a bid to save the world from her atrocities and Glastonbury has a long tradition of being 'The Isle of Avalon' where King Arthur went after his last battle.
Glastonbury Tor is owned by the National Trust, but there is no parking, so we parked at Draper and Co on Chilkwell St, at a cost of £3.
From here, turn right onto the main road and the entrance to Glastonbury Tor is on the left hand side. We missed the front entrance to the Tor and walked up the country lane to the rear entrance, which gives a lovely view as you walk past.
Unlike many National Trust sites, entry is free and their is no need to book your visit in advance.
Once off the road, the climb up the Tor is quite steep. Sebby and Isaac chose to climb the steep hill, but Eliza and I opted for the steps as they are easier.
The hill rises 158m above the surrounding flat land and rewards you with a stunning 360° view of Glastonbury, the Mendips and all the way to the Bristol Channel.
At the top, their is a handy sun dial type plaque, which points out various view points including Cheddar Gorge, which we visited the day before.
The tower at the top of the Tor is all that remains of the 14th-century church of St Michael and there are some really interesting carvings on it.
It doesn't not have a roof, so doesn't provide any shelter from the wind, or rain.
The visit is not a full day activity and we climbed there and back in around 90 minutes, although we did cut it short as it started raining.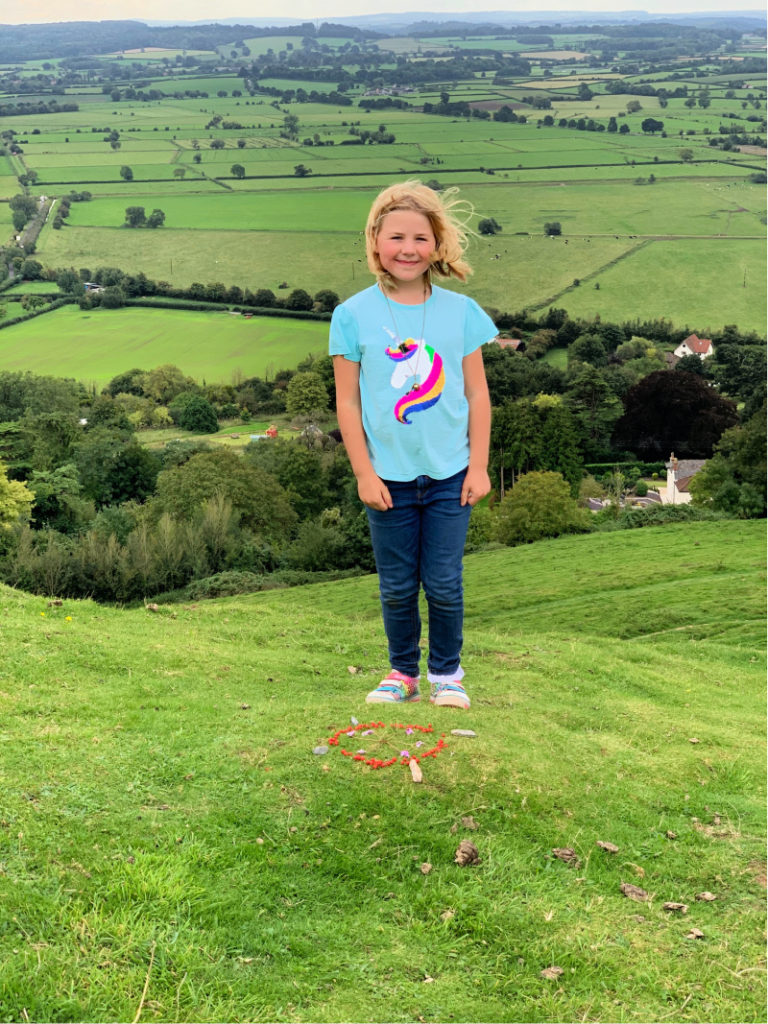 The kids did enjoy racing back down to the bottom though and we just made it to the shelter of the trees when the heaven's opened.
They did manage to count the steps on the way back down too – 301!! With that in mind, if you have a young child / baby, they will need to be in a carrier rather than a pushchair.
A visit to Glastonbury Tor is a lovely day out and there are plenty of places to visit nearby to make a full day of it, such as Glastonbury Abbey, Wookey Hole and Wells.
Have you been to Glastonbury Tor?