Review: MAMMA MIA! – The Tour, Bournemouth
We love musical theatre in our house, but one musical which had eluded us was Mamma Mia, until now.
On Thursday evening, we were invited to see MAMMA MIA – The Tour, which is at Bournemouth Pavilion until 30th July.
Did you know that MAMMA MIA! is the sixth longest-running show in West End history and its popularity shows no sign of waning, with MAMMA MIA the Party currently drawing in crowds at the 02 in London.
If you have not heard of MAMMA MIA, it is a jukebox musical featuring ABBA's greatest hits, which are woven into the show to tell the story of 20-year-old Sophie who lives on an idyllic Greek island. On the eve of her wedding, launches a quest to discover the identity of her father. After reading her single mother Donna's diary, she invites three men from her mum's past back to the island they all last visited 21 years ago to try and find out the truth.
You don't have to be mega ABBA fans to enjoy the musical, the story is colourful, high energy, light-hearted and doesn't take itself too seriously.
The set immediately whisks you away to a Greek island, to put you in a holiday mood from the start and transforms to the inside and outside of a traditional taverna with a few simple movements.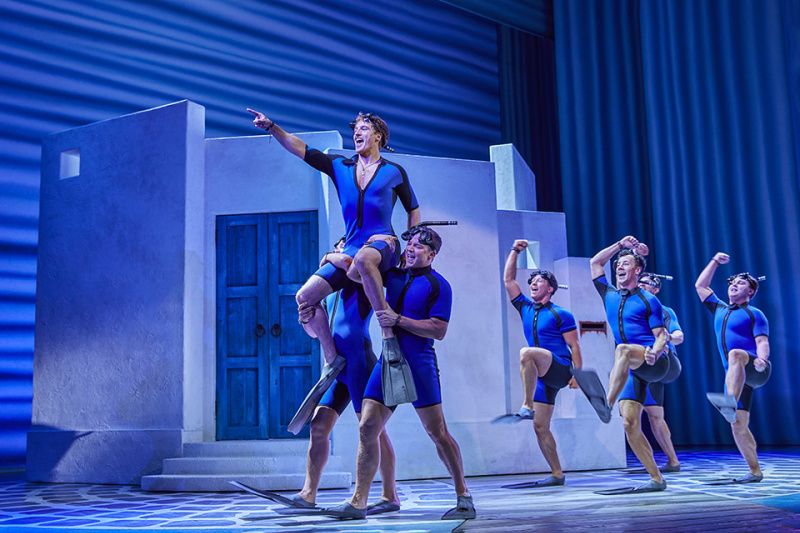 There are a whopping 24 ABBA tracks in the musical, but they all slot beautifully into the story, along with some brilliantly choreographed routines. My favourite has to be Blue and his stag night crew dancing in their flippers, closely followed by "Does your Mother Know" which sees serial-divorcee Tanya, trying to see off the attentions of hyper-exuberant young Pepper.
There are some songs that just cannot be woven into the story, like Waterloo, or ones that you need to hear again and that is what the encore is for. The cast appear in full ABBA-inspired costumes and belt out three more songs, where you are positively encouraged to sing, dance and clap along.
The all audience was on its feet for this and we all left the Pavilion with huge grins on our faces, singing our favourite songs.
Tickets are available here and cost from £24.50 and there are performances Tuesday – Saturday evenings at 7:30pm, Saturday matinees at 2:30pm, plus matinees on Sunday 24 July at 3pm and Wednesday 27 July at 2:30pm.
Have you seen MAMMA MIA!?