School's Out: Our favourite school holidays
After a jam-packed school term, the holidays always offer a welcome break from all the madness – a chance to recoup and reconnect as a family. Whether it's a long, hazy summer holiday spent in the sunshine, or a freezing winter break spent cosied up together indoors, here are just some of the highlights of the school holidays.
The Easter break
The first signs of spring usually appear in April and the Easter break is prime time for welcoming the first rays of sunshine and spending time outdoors. After a long winter bundled up under thick coats, it's a joy to head out for a walk with the kids without worrying about the cold and rain.
The great thing about the Easter holiday is there's always plenty to keep the kids busy. Not only does warmer weather mean outdoor games, picnics and long walks, but there are loads of fun seasonal activities to try. A classic Easter egg hunt is always a winner, as well as arts and crafts.
We love decorating blown eggs with paint and felt tip pens; all you have to do is make a small hole in each end of the egg and blow the contents into a bowl (keep for your scrambled eggs or omelettes after your hard work) and decorate away. Trying to create a range of characters is always fun!
May half term
This half term holiday is a great opportunity to get away for a long weekend and make the most of the weather. A minibreak in the UK is often the easiest and most affordable option as you avoid expensive flights. Destinations like Center Parcs offer three, four and seven day breaks so you can choose the best option for you.
At Center Parcs you'll find everything you could ever dream of to keep young kids busy. Not only are there acres of forest to explore and a lake to paddle in, but a heated swimming pool with rides, slides and water play, an outdoor playground and loads of fun indoor and outdoor activities, from archery to climbing.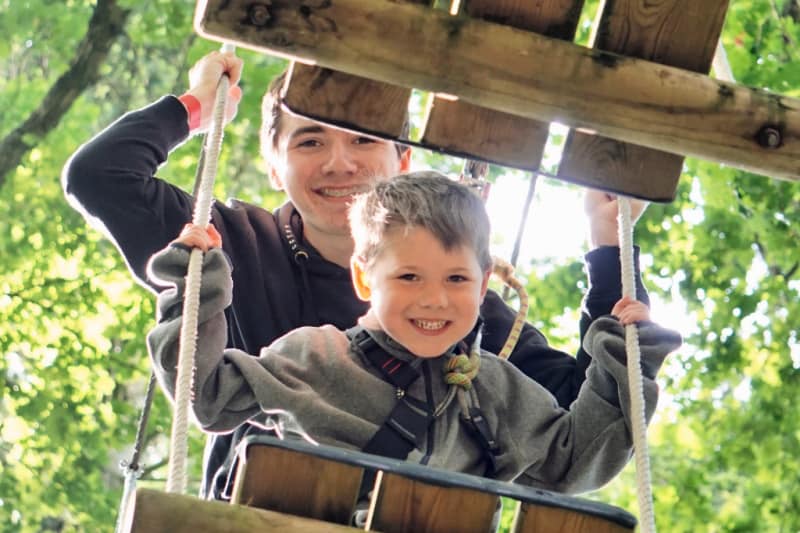 If you're staying at home, make the most of any local museums, parks and more as many tend to offer promotional deals over half term.
The summer holidays
The summer school holidays are often when life-long family memories are made. From beach holidays full of sun, sea and sand, to sunny picnics in the park and countless ice creams – with so many weeks to work with, it's a great time to go away on a longer break to see family or friend in distant countries, or get to know what's on nearer to home. 
The Christmas break
Christmas is the most magical time of the year and there's no shortage of activities and fun to keep kids occupied. Great seasonal activities include ice-skating, a visit to a Christmas market, a visit to Santa's Grotto, sleigh rides and so much more. Even a simple walk around the centre of town looking at the lights is a delight for a young child. 
With the short days and chilly weather, it's also great to spend time indoors. Watching your favourite films, playing board games and baking festive treats are all fun ways to pass the time and keep little minds and hands busy.
Because of my husband's holiday restrictions with work, we tend to go away during the February and October half terms. They work perfectly with finding winter sun, or exploring the UK when it is quieter, plus it is cheaper to travel than the sunnier months.
When do you like to go away with the family?