Visiting the Giant's Causeway with Kids
If there was one thing that saved us a lot of money during our visit to Northern Ireland, it was our National Trust membership as many of the sites we wanted to visit were looked after by them.
Our first visit of our holiday was to the Giant's Causeway and although you can access the stones for free via the Public Right of Way, it is well worth visiting the award-winning Visitor Centre, which is included in your National Trust membership.
Inside you will find an exhibition showcasing the stories and the science behind the Giant's Causeway, plus a giant cinema screen which shows how the causeway was formed and a fun cartoon for the kids all about the legend of how it was built by a giant.
You can join accompanied tours, however we decided to pick up audio guides and head down to explore on our own.
It is around a 10 minute downhill walk to the causeway, or you can catch a bus if you choose. Personally I would recommend the walk as there are points to stop and admire the views and get information from the audio guide.
There are three rock outcrops which make up the Giant's Causeway, with the largest of them being the Grand Causeway and I have to admit that it looks quite small as it first comes into view as you turn the corner.
It is not until you get up close that you really appreciate the sheer scale of it.
The causeway has around 40,000 interlocking, hexagonal-shaped, basalt columns, which developed as the result of an ancient volcanic fissure eruption almost 60 million years ago and is a magnificent sight to behold.
If you are visiting with small children, be aware that climbing onto the rocks is a bit tricky, especially in high winds and Sebby did need some help negotiating the stones and I would recommend that you wear walking boots for added grip, rather than trainers.
These stones are manned by National Trust employees to ensure that people remain safe and it is recommended that you don't climb on the black columns as these are more slippery, but you are more or less allowed to explore at your leisure.
Isaac and Eliza loved exploring the stones, but Sebastian preferred to sit and watch, listening to the stories of Finn McCool the giant, on his audio guide.
The story tells us how Fionn mac Cumhaill (Finn McCool) is an Irish giant who picked a fight with a huge Scottish giant called Benandonner.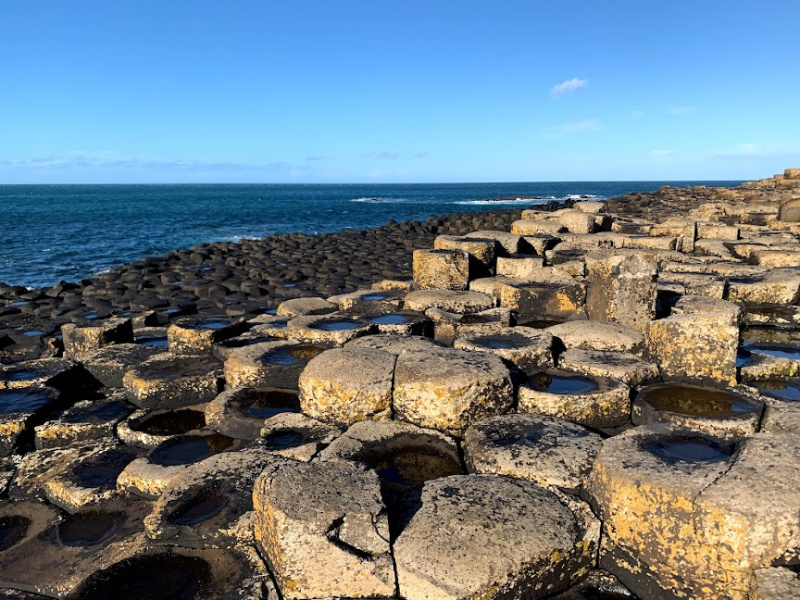 Legend has it that the giants loathed each other, so one day after enduring insults from Benandonner, Fionn built a path to use as stepping-stones to reach Scotland, which was then ripped up by Benandonner. The result was the Giant's Causeway.
It is every bit as spectacular as I had imagined, but do be aware that it does get very busy, especially in the middle of the day and trying to get a photograph with no other visitors in it is almost impossible.
If you don't mind a walk, I highly recommend that you head up to the rear of the causeway.
If you looks carefully, you may get to see the Giant's boot, apparently lost by Finn as he fled from the wrath of Benandonner.
From here you can then head up the cliff path to look down on the Causeway to appreciate it from a different angle.
It is well worth following the trail to its end, as you end up at the amphitheatre, a stunning arc shaped cliff, although it is worth bearing in mind that it is all uphill and little legs can be tired from all that climbing.
On the way back we decided to take a different route back to the visitor centre.
This involved tackling the Shepherd's steps, which is 150 steps (we counted them) up the side of a steep hill.
We definitely deserved our hot chocolate and cake reward in the cafe afterwards!!
National Trust membership costs £126 per year and gives you free entry to over 500 special places, free parking at most National Trust car parks, a National Trust Handbook full of ideas to help you plan a visit, National Trust Magazine sent to you three times a year and regular newsletters sent straight to your inbox. Get up to £8.40 cash back when you join through Top Cashback.