Iceland South Coast Classic Tour: The Glacier and Waterfalls
Our first excursion during our visit to Iceland was with Reykjavik Sightseeing, on their South Coast Classic Tour and for the first half of the tour we visited Reynisfjara Black Sand Beach and this post covers the second half of our excursion.
Upon leaving the pretty town of Vik, we headed back along the coast, where thankfully the heavy fog we had encountered on our journey there had started to lift, leaving stunning views of the mountains as we passed.
Our first stop on this part of our tour was the Sólheimajökull glacier which is situated between the volcanoes Katla and Eyjafjallajökull.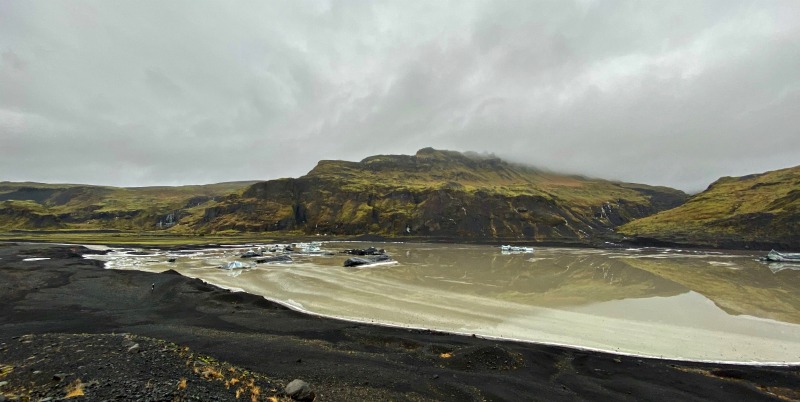 It is a around a ten minute walk to get to the glacier along the side of the affectionately named, Stinky Poo River and our guide, Alex, explained that the car park has been moved closer due to the speed that the glacier is melting – over 1km in the last decade.
It was a real "WOW" moment as we rounded the corner and the glacier came into view.
There were tours that were heading both into the ice and on top of the glacier, but unfortunately we were unable to take part as Sebby and Eliza were too young to join in.
They were more than happy enjoying the ice that surrounded us.
I would advise that you wear good quality walking boots with plenty of grip if you visit as the pathways are very uneven and icy in places.
From Sólheimajökull we jumped back on the coach for the short drive to the first of two waterfalls on our itinerary – Skógafoss.
Skógafoss is around 62 m high and 25 meters wide, and in the summer you can walk right up to its base.
We visited in late October and it is extremely slippery and icy as you get close and I have to admit that the kids gave me kittens as they got closer and closer, but standing so close to such a powerful waterfall is an amazing experience. Make sure you wear a waterproof coat and protect your camera as you will get wet (you can see the water drops on my lens in the next photo).
There are also 527 steps up the side of Skógafoss Waterfall for another breathtaking perspective of the sheer power of the falls, however, it is quite a climb and not suitable for small children.
Our tour guide also told us that according to old folklore, you can find a chest filled with gold and treasures behind Skógafoss waterfall – there was no way were getting that close to look!!
The second waterfall, Seljalandsfoss was another short coach ride away.
Seljalandsfoss isn't as powerful as Skógafoss, but it is higher, at 65 meters tall. The real treat with this waterfall is that you can walk behind it, but sadly it was closed during our visit as it was too icy.
The kids had fun slipping and sliding around though!
There is more room to explore around Seljalandsfoss and we headed off to explore the area, coming across some very interesting ice formations.
On our journey back towards Reykjavik, the weather was much clearer so we got to enjoy some of the sights we missed earlier in the day, including huge lava fields and thermal streams.
I highly recommend Reykjavik Sightseeing, Alex was a fantastic tour guide with the perfect mix of fact and fun Icelandic folklore tales. We enjoyed them so much, we even bought the Trolls in the Knolls book.