Sometimes you have to be a little bit naughty!
Hubby has been hinting that he wanted to see Matilda the Musical for quite some time, so for Christmas I bought us tickets to go and see it at the Cambridge Theatre in London.
Apart from the fact that we got a little lost trying to find it, we arrived in plenty of time, getting to take in all the nods to the popular Roald Dahl book throughout the theatre.
It was the stage that provided the real "Wow" factor though, as it was covered from floor to ceiling in hundreds of books, spelling out words from the story.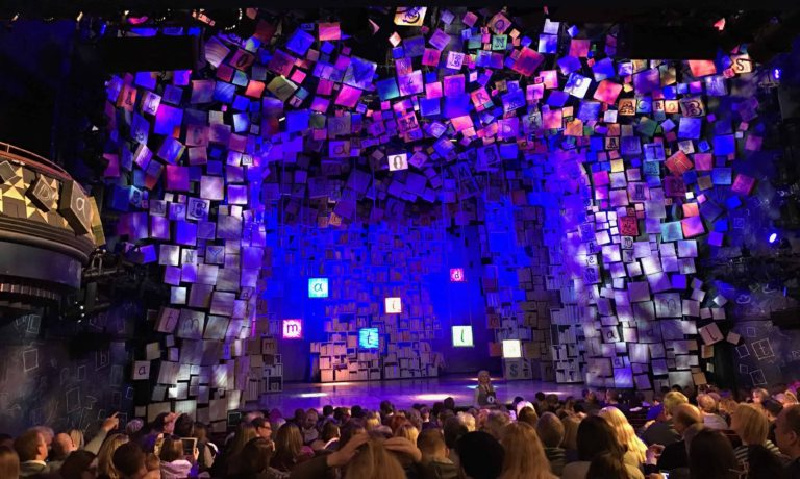 Matilda is my favourite Roald Dahl book, full of magic, dark humour and larger-than-life characters, which transfers perfectly to stage.
Matilda the Musical is an extraordinary play about an extraordinary little girl. Neglected and under-appreciated by her self-involved parents, Matilda, played by the outstanding Zaris-Angel Hator, finds comfort in the escapism of books.
Matilda's parents and older brother are hilariously self-indulgent and Matilda's tricks on her father are brilliant and include the hair dye swap – well, sometimes you have to be a little bit naughty, don't you?
It is not until Matilda starts at Crunchem Hall school and meets the kind and equally downtrodden Miss Honey,who recognises her remarkable abilities, and the fabulously fearsome headmistress Miss Trunchbull.
Most of my favourite scenes are there with Miss Trunchbull swinging Amanda Thripp by her pigtails (I still don't know how they did it), Bruce Bogtrotter's cake punishment and of course the infamous "Chokey".
The show kept you on the edge of your seat from beginning to end as it is full of rambunctious fun and wicked wit. With childhood pranks, a sports lesson with some impressive vaulting from the kids, a classroom that appears from the floor and the most beautiful scene that involved the children soaring towards the audience on giant swings.
For a cast that features mainly youngsters, the singing, dancing and acting was on point and we left the theatre humming its tunes and feeling genuinely uplifted by the happy ever after ending.
The show is suitable for children aged 6 and over, although I think Eliza would have been terrified by Miss Trunchbull, I know Isaac would have loved it and we plan on taking him to see it soon.