Visiting Corfe Castle during COVID19 restrictions
Corfe Castle is one of our favourite local places to visit, so as we started emerging out of lockdown it was the first place we looked into visiting.
Corfe Castle is looked after by the National Trust, therefore if you are annual pass holders like us, you can enjoy free entry. However, like many venues, they now require to book your ticket in advance as they are limiting visitor numbers. This is done via eventbrite and completely free for NT members, but it is worth remembering that booking closes at 3pm the day before your visit.
You are then required to arrive within your 30-minute time slot. We simply checked it at the tent at the bottom of the hill and began exploring.
We booked at 11am slot as the traffic can be quite bad getting through Wareham, particularly in the summer months and arrived in plenty of time.
We found a few people milling around and some enjoying picnics in the grounds, but the site is huge and we happily wandered around at our own pace and away from everyone else.
Corfe Castle normally has activities on through the school holiday's, including trails, dressing up and events, but these are currently cancelled due to COVID19.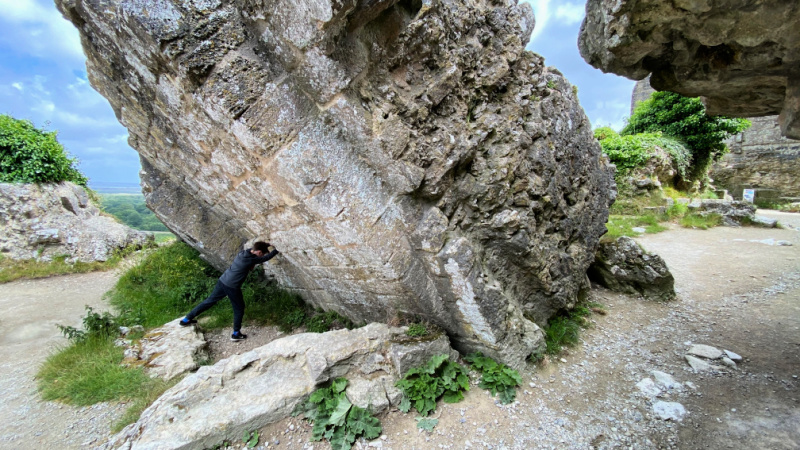 I was worried the kids might be disappointed with the lack of activities, but they were more than happy to read the information signs, recreate fun photo's (the one above with the leaning wall is a fave) and just enjoy the sights from the top of the castle.
We stayed and explored for a good couple of ours before making our way back down to the village.
Now the kids are a bit older and conditioned for longer walk, we decided that we would climb the hill opposite the castle, to take the view in from above, and to see a strange sculpture that we spotted on the hill.
We picked up the footpath from behind Corfe Station and made the climb up the hill, which is a mixture of steps and a pathway.
Sebby literally ran to the top, deciding that it was his new 7 year old legs that powered him. I took a more sedate pace as it is quite a steep climb, but it is well worth it for the views.
As you can tell, it was a little bit windy!!
The summit of the hill also offers stunning views over the Purbecks, all the way to the natural harbour of Poole. We also found the sculpture that we spied from the castle.
The Dorset Steer is a stunning piece of art by Eilidh Space, which has been erected on the hill and is dedicated to the NHS.
It was then back down the hill the way we came.
Once we reached the car, we drove into Swanage and enjoyed an ice cream from Fortes on the prom.
How have you had found the extra precautions on days out?