Places to visit with the kids in Dorset for free
Did you know that 44% of the area of Dorset is classed as an Area of Outstanding Natural Beauty.
If you are a keen walker, there are thousands of footpaths and bridle ways to explore, but often kids need something extra to keep them interested and there are plenty of places to explore that are completely free of charge to visit. (Parking charges may apply)
I have been chatting to the kids and here are a few of our favourites:
East Dorset
Moors Valley
Moors Valley is a fantastic place for children to play and explore, with a play trail with unique pieces of wooden play equipment along a mile long route, two play parks, a tree top trail and a large picnic area.
There is so much to do and see that you can easily spend the whole day there – you might even spot the Gruffalo and his friends.
Avon Heath Country Park
Avon Heath Country Park, near Ringwood, is a large country park, perfect for spotting local wildlife. It has a visitor centre, large children's play area, a wildlife area, picnic area and walking trails to explore.
Upton Country Park
Upton Country Park near Poole, is a lovely place to let the kids run off some steam.
Not only does it have some fabulous lakeside and woodland walks, complete with fairy doors, but it also has a new adventure play park, walled gardens which come complete with a splash fountain for the summer.
Durlston Country Park
Durlston Country Park is set in Swanage at the beginning of the Jurassic Coast.
For dinosaur lovers, there is a great entrance to the small castle, with the jurassic timeline and to the rear of the castle is the fantastic great globe, one of the largest stone spheres in the world.
Although there are no play areas, there is a brand new woodland trail for kids to explore and a lovely walk to Anvil point Lighthouse.
Arne
Arne Nature Reserve is situated on the west hand side of Poole Harbour and celebrated for its lowland heathland and its wildlife including Dartford warblers, nightjars, all six species of British reptile, butterflies, moths and its beautiful Sika Deer.
There is a small play area, but the real treat about visiting Arne is to complete all the trails and see which birds and animals you can find.
Mid Dorset
Winspit Caves
Winspit is an old disused quarry on the coastal cliffs near Worth Matravers, which provided building materials for many of the major buildings in London and later became a World War Two naval and air base.
Most of the caves are accessible to the general public, however it is clearly signposted that you do this at your own risk. The kids adored climbing in the abandoned buildings and caves but it is worth noting that the cliff edge is not fenced off, so I wouldn't take young children.
For added cool factor, an episode of Dr Who was also filmed here and the caves feature as Skaro – home of the daleks and they are also a filming location for the new Star Wars TV series.
Tyneham Village
Tyneham village is a small village near Lulworth which was evacuated in 1943 during WWII and has been deserted ever since.
Most of the small village is derelict, with the exception of the church, but inside each of the homes are information plaques about what the buildings were used for and who lived in them, along with historical photographs.
The Church and School are still intact and have exhibitions about the village and villagers and that the kids found fascinating.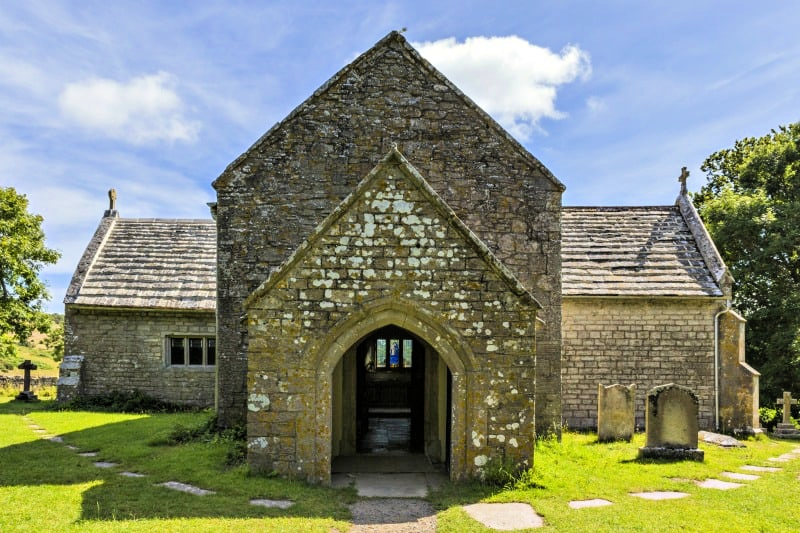 If you want to make a full day of it, take the 20 minute from the village to Worbarrow Bay – it is one of our favourite beaches along the Jurassic coastline.
Lodmoor Country Park
Lodmoor Country Park is a large country park on the coast of Weymouth and features a large public park with trails & playgrounds, including a large timber galleon play ship.
Tout Quarry
Tout Quarry is set on the Isle of Portland, near Weymouth and is perfect for exploring.
This abandoned stone quarry has been turned into a stone sculpture park, with 60 hidden sculptures to find. It is the perfect kid's playground as not only can they search for all the sculptures, but they can climb and explore all the nooks and crannies.
There are also spectacular views over Chesil Beach to admire and for nature lovers, lots of flowers and butterflies to look for too.
West Dorset
Charmouth Visitor Centre
Charmouth and Lyme Regis have some of the best beaches in Dorset for Fossil Hunting and the visitor centre has all the information and equipment you need to help you locate your fossil haul.
There are lots of fossils to be found and we came away with ammonites, belemnites, coprolites, crinoids and trace worms.
North Dorset
Gold Hill Museum
Shaftesbury is a small market town in Dorset with a fascinating history going back to Saxon times, but has since found fame as the home of "that Hovis ad".
At the top of the hill is also the Gold Hill Museum, a free to enter small museum dedicated to the town of Shaftesbury and its vibrant history.
Are there any places that you love to visit that I have missed?